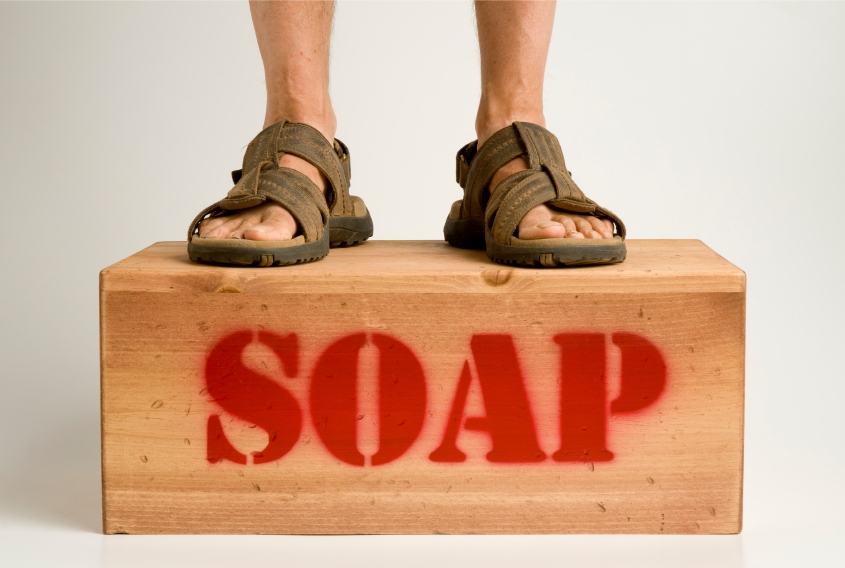 Disclaimer!
I swear a few times in this post. I only used one "naughty" word, but I used it a few times. If you or your spirit is prone to being offended by swears, refrain from continuing your reading of my post. Thanks friends!
--------------------------------------------------------------------------------------------------------------------
I know that I don't have a terrible life. I have a family that loves me. I have a job. I have God. But, I still feel the sharp blade of depression resting so cleverly in my back. I feel it poking deeper, reaching towards my heart. My very soul quivers beneath this sharp blade. It creeps so keenly towards every emotion that I possess. Its dividing force is drawing closer to separating me from me.
It's easy for me to step away from myself and help other tame their black dogs. I determined a long time ago that I didn't want anyone to have to feel the things that I do. I set out on a mission to extinguish this debilitating illness from those around me. I help where I can. I lift burdens. I succor. I provide sustenance. I try to help others find something to live for and strive towards. But, I can't seem to do it for myself.
I'm fucked up, I know. When I say I'm barely hanging by a few thin threads, I mean it. I'm constantly thinking about when the moment will be when I can't hang on anymore. When will the last few strings slip through my slick fingers? I'm tired and my arms are giving out. I feel the void trying to suck me in. I'm not sure how much longer I can resist the temptation to let it all go. I don't know when the moment will be when the thoughts of emptiness will outweigh these few meager threads.
I often wonder what the fuck is wrong with me. I hang over a crevice that fills with deep sadness and anger but then quickly ejaculates it out of the hole and into a deeper abyss. I don't hold onto any emotion for longer than I have to. It hurts. I've tried to carry them with me as long as I could and was left feeling like a torn up rag doll forgotten by a child.
I sound extremely dramatic but God knows that it's the only way a person like me can describe his fucked up life. I hide it well, don't you think? I smile, sing, and make off-colored jokes. I spread myself thin with toxic gossip so that if someone even comes close to my vulnerabilities I can deflect with some spilled tea. I'm fake. I'm everything I despise in other people. A hypocrite. A fool.
I'm not a saint but I try to be. Everyone prays in the end, right? We all eventually pour our hearts out to someone or something and ask that they take this away from us. In our own sick fucked up heads, we imagine someone with the power to deflate our dread. We pretend that they hold a giant needle to pop the bubble of despair that shrouds our very existence. I fall on my knees almost every night in hopes that my maker will relieve me from my ever depressing duties on earth.
It's easy for others to tell me to be happy. It's simple to stand on a soapbox and lord over the oppressed with your shouts of positive thinking and living. They say, "Just think of everything that makes you happy", while pointing a laser at their power point titled, "There is sunshine in my soul today". There is no sunshine in my soul and regardless of how many carefully placed slides you have in your presentation I'm still not going to feel joyful. I know that I have things in my life that should make me happy but I'm not happy. I'm not a happy person. I'm cynical, self-centered, and egotistical. Unless I've spoken to you about the constant tornado of depressing feelings that I have, you'd honestly never know. It's easy to tell someone that you feel tired or worn out. Instead of prancing upon your wooden crate maybe you should step down off of the splinter infested chest and get on the same level as those who struggle.
I did not write this to garnish sympathy. I wrote it so that you can see that life isn't all pleasant for those around you. Sometimes, there are people in your life that are fucked up. They dread waking up each day and placing a mask on their face. They despise communication because one slip could mean creating distance between themselves and the people they crave to be close to. They walk around in a disgrace, stuck in their own heads, becoming their own enemies. They want to give up and stop feeling altogether. They plead inside that someone will take away these feelings. They question, what the fuck is wrong with me.

I know I mentioned people getting off their soapboxes but I also said I was a hypocrite so bugger off!

-Jer